Touch Of The Fumbles: The resurrection
It's worth remembering that on the original Easter weekend everything seemed to be going pretty shithouse on Friday night, but by Sunday everything had turned out great.
Appropriately then, the AFL's 2019 Easter weekend fixture played out in much the same vein.
Which is hardly surprising; this, after all, is a season so wacky that not only have the teams we expected to do badly actually done well (and vice versa), but teams that look unbeatable one week are completely rolling over the next (and vice versa).
So wacky, indeed, that by Sunday our looming three-match draw against Gold Coast, St Kilda and Freo comprised arguably the toughest fixture in the league.
Thus, having cleared my schedule to enjoy Port's inevitable smashing at the hands of West Coast, I spent the ensuing hours sitting in stunned disbelief while doing my best impression of Bob Hoskins at the end of the movie The Long Good Friday:
Which was obviously fitting, because it was indeed a long Good Friday: probably, the worst Good Friday ever – or at least for 2000 years or thereabouts.
Although to be fair, what better way to mark the anniversary of the saviour of the world getting tortured, publicly flogged and executed than Port having a solid win on the road?
But, I mean, are they planning on doing this sort of thing every week now?
Because, I'll be frank: that would really piss on my plans for 2019.
If you could succinctly sum up my aspirations for the season vis a vis the Port Adelaide Football Club, it would go something like this:
But instead it's turning out rather more like this:
And also this:
PACE, REAL PACE!

Take a bow, Connor Rozee! #AFLEaglesPower pic.twitter.com/kOjQKnt4uE

— AFL (@AFL) April 19, 2019
As West Coast insipidly folded on their home deck, I was reminded of the immortal words of Jesus Christ Himself, who famously said: "Good Friday, my arse!"
Or words to that effect, anyway.
This was all particularly unhelpful since I was technically on holiday last week, although I quickly realised it would be spent largely ruminating on the respective form of my perennially annoying football team and that of its crosstown nemesis, the proverbial yin to its yang.
Thus, while I had plenty of time to take in the majesty of the Easter weekend's football round (which, together with the forthcoming Anzac round, presents the discerning nuffy with a BBL-esque near-unbroken 11-day stretch of viewing displeasure) it was generally a pretty unpleasant experience.
If, for instance, there was a narrative I was banking on more than Port's collapse, it was following Carlton's epic journey to the wooden spoon, after which they would be compelled to hand over a shiny new Number One draft pick to the Adelaide Football Club.
That narrative has already been significantly undermined by the Crows' own propensity to play football as though they were themselves tanking for draft picks. But things got worse early on Sunday when it turned out that Carlton are actually pretty not bad. I mean, we always knew they'd have to win a game eventually, but that didn't make it any less disappointing when it finally happened.
Until now, Carlton's been like  a boozehound attempting coitus after a long night on the piss: they've been up and about but ultimately incapable of finishing the job.
On the weekend, though, we were forced to revise not only our understanding of how just good they might be, but with it our pre-season draft bounty aspirations:
For it was the manner of them Not Losing that really rankled.
Like Port, they had the air of a team that might Not Lose again next week, and even the one after that.
And that was coupled with a string of other results that continued to reflect pretty badly on Adelaide's year to date.
The Kangaroos are clearly doing their impression of a post-crucifixion (but pre-resurrection) Christ, and have accordingly given up their spirit.
Seeing them soundly trounced by the Bombers did not bode well for the lone team they've managed to beat this year (which, in case you've forgotten or had professionally suppressed, was us).
Unfortunately for North though, they can't play Adelaide every week – although I'm hanging onto a hopeful conspiracy theory that we deliberately let them bank one win in a bid to help Carlton finish below them.
It got worse though: the lone team we'd managed to beat, the Swans, providing another timely reminder that beating them is Not Really A Big Deal After All.
I mean, even Melbourne did it.
But by Sunday none of it mattered any more.
Because in a particularly Christ-like manoeuvre, on the third day (of the long weekend) we rose again.
And given Christianity never had any problems whatsoever from that moment forth (if I recall correctly), I'm assuming that means it's all beer and skittles (or milk and honey, as it was in Biblical Times) from here on in.
But I'll admit I had my misgivings; I was the Doubting Thomas in this analogy, both figuratively and literally.
Yet it was, after all, a weekend for miracles.
A weekend when children across the state awoke to hunt for water-logged chocolate eggs, a single word escaping their excited lips.
No, not 'Easter'. Another word.
The little genius was playing his 300th, which appeared to all and sundry to be an occasion of great joy and celebration, although it seemed somewhat bittersweet to me. For all the unalloyed joy he has given Adelaide supporters since 2014, it has come with an unwanted after-sales tax: namely, having to watch such an incandescent star so dramatically and inevitably burning out this past year and a bit.
Whether Sunday's outing was a brief flare reigniting for a player with a rich and instinctive sense of occasion or a more long-term return to form remains to be seen, but as a moment in time it was poetry.
Slow-crescendo poetry, mind you; even after he had jagged the requisite number of snags to require the Liberal Government to legally compel every South Australian to get his face tattooed on their butt, this wasn't quite vintage Eddie.
The first, for instance – while cathartic – was too routine; a simple chest mark from a pinpoint David Mackay pass (yes, it really was one of those nights).
A couple were seagull goals, floating in behind the pack for easy pickings. One of them belonged to Lachie Murphy, who was deemed too sore to take the kick after he was flattened taking a heroic grab, and who, in a dour, confidence-killing first quarter, seemed to be the only Crow playing not just for his season but his career.
That opening term, while lacking highlights and boasting numerous lowlights, was nonetheless bruising, and Murphy's post-siren goal seemed to lift the season from the mire.
It briefly returned there when the Suns kicked the first of the second (and their first of the game) to draw level. But the Crows quickly motored away, and by the time the Suns added another major to their tally, they were out of the contest altogether.
Gold Coast, of course, famously haven't beaten Adelaide since their inception, and I think I've worked out why: it's because they train on the Gold Coast.
The Crows went for a preseason training camp to the Gold Coast for a few days once, and basically turned into a veritable basket case.
So imagine having to spend every preseason there.
Anyway, while Betts and his 300 games duly stole the show, it was Brodie Smith, celebrating half that number, who arguably ended as the most instrumental player on the ground, backed by a hearteningly inauspicious support act: the ever-improving Reilly O'Brien and Alex Keath, the returning (and never again to depart, please) Hugh Greenwood, and the dogged efforts of Ellis-Yolmen, Atkins and Mackay.
And so Eddie's own tally looked set to finish on five; a handy number and a worthy celebration of our biggest recruiting coup since Darren Jarman.
But then came the sixth – that vintage freakish left-foot checkside snap from the boundary.
Simply the Betts! #eddie300 #weflyasone pic.twitter.com/SKkFIAFXiu

— Adelaide Crows (@Adelaide_FC) April 21, 2019
And for a brief, divine moment, I had the faintest muscle-memory recall of a supporters' emotion barely felt since we strode onto the MCG in September of 2017.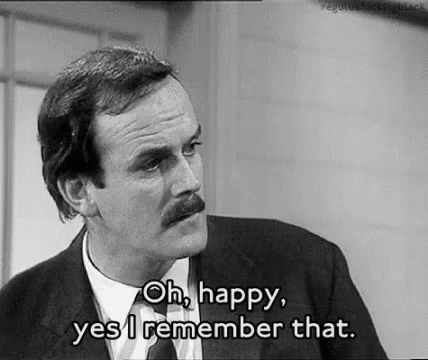 How good was it? Well, we even stopped scoring once we hit the historically significant milestone of 119 points – just to throw one final subliminal highlight into the mix.
And after one of the more atrocious starts in Adelaide's history, we can finally return to the working week with a new and, of late, unfamiliar sense of our underperforming team:
Eddie's antics can't be taken out of context altogether of course, because we needed to win and ideally to win emphatically, and it will all be undone if we return to our 'Losing To North Melbourne' ways against St Kilda next week.
I'm sure we were all despondent after the Blues' victory that we didn't get to call up every Carlton supporter we know and tell the following gag:
Knock knock.
Who's there?
Owen.
Owen who?
0 and 5.
But I fear I'll soon be getting a call from one of the few St Kilda aficionados I know, who will convey much the same gag, except the punchline will be:
"Oh-when the Saints…"
We've been here before, of course; it hardly bears repeating that we were 1-3 in 1997, and again in '98 (oh, and also '01, '11 and '14, but best not to mention those).
But 20-odd years should have taught us that looking for signs and symbols and fateful events while all the while expecting history to repeat is a fools' errand. We've had two decades of believing that because something was once so, it will be again… and it simply never is.
So let's just keep a lid on the fact we beat a team that only a month ago most pundits were calling 'the worst AFL team ever assembled' and remember that we remain on what one might delicately call The Arse End of the AFL ladder.
Furthermore, the long weekend also ended with a hideous reminder that Paddy Might Win a Premiership, as Geelong accounted for the Hawks in another worryingly competent display.
Given that watching my own team play (even when they're playing well) is intrinsically a fairly painful ordeal, I have recently realised that my greatest footballing pleasure these days is watching games in which I have no emotional stake whatsoever.
Get InDaily in your inbox. Daily. The best local news every workday at lunch time.
Thanks for signing up to the InDaily newsletter.
Unfortunately, these are fewer and farther between – what with crosstown nemeses, first-round draft pick swaps and assorted ex-Crows currently dominating for various clubs across the AFL.
So perhaps my biggest resentment about Dangerfield's defection is that he's ruined the unalloyed pleasure of watching Geelong playing Hawthorn as a genuinely impartial observer.
Not to mention his every move proving a bitter reminder of our lack of grunt, pace and a reliably-marking forward.
But anyway, enough about Dangerfield.
Let's not dwell this week on a player who leaves the team that drafted him to play out the best years of his professional life back in his home state, garnering numerous individual accolades and being feted as one of the all-time greats.
Let's dwell on Eddie instead.
Touch of the Fumbles is InDaily's shamelessly biased weekly football column, usually published on Mondays during the AFL season.
Local News Matters
Media diversity is under threat in Australia – nowhere more so than in South Australia. The state needs more than one voice to guide it forward and you can help with a donation of any size to InDaily. Your contribution goes directly to helping our journalists uncover the facts. Please click below to help InDaily continue to uncover the facts.
Donate today