Touch Of The Fumbles: The South Australian Condition
The Crows are at the top end of the ladder after a visit to the Top End, but we're all starting to get that familiar pre-break-up feeling again. But never fear. Our Fumbles correspondent is taking matters into his own hands, and he's making Lever and McGovern an offer they can't refuse.
AN OPEN LETTER TO JAKE LEVER AND MITCH McGOVERN
Dear Lever and McGovern,
Or, as I prefer to call you, Leaver and McGoin'.
This isn't going to be one of those tearful appeals to the better angels of your natures. Or some desperate George-Michael-in-Careless-Whisper-style plea for you both to 'Please Stay'.
I mean, I could do all that. I could tell you that there will be kids across SA whose eyes will light up in excitement if you both somehow end up staying at the Crows (not mine, though; they couldn't care less either way and, frankly, wouldn't have a clue who either of you are).
But that's not really our style here at Fumbleland.
It's just that you might have noticed a bit of fevered anticipation about the place as to your future intentions vis a vis your respective careers. Which might all be a bit bemusing/overwhelming/annoying. So I thought I'd try and give you a bit of context as to why we're a bit sensitive about this sort of thing.
You see, not being from round these parts, you may be blissfully unfamiliar with what we'll call The South Australian Condition.
Part of the South Australian Condition is to not merely expect disappointment, but to relish it.
Thus, when the football club some of us follow ends up recruiting a solid player from another state, we feel like one of those shabby musicians who finds himself dating a supermodel. Every waking moment is spent wondering how we ended up in this position and pondering the improbability of it all.
And of course wondering how long it will take before it all comes to a crushing end.
But every now and again, we allow ourselves some misguided optimism.
We tell ourselves a Dangerfield or Tippett is going to re-sign, with the same doe-eyed optimism with which we repeat endless wistful assurances about an expanded Olympic Dam or the world's biggest high-level nuclear waste dump.
But deep down we know none of these things will ever happen, and moreover will probably Not Happen in the most diabolically devastating way possible.
Amusingly, all year we've been carrying on about who we'd rather keep out of McGovern and Lever, as though it all boils down to a choice between the one or other of you. When actually the far more likely option is that you're both about to sod off to your respective corners of the country.
I think we got that impression pretty loud and clear from the interview 'Leaver' did on FIVEaa last week, in which you stumbled through a near-admission that you're not going to announce your plans before the finals "because if it's a decision that I have to make, or something like that, I don't want to be rushed into it just because it's just before finals".
Which means what exactly?
Why not make a decision before the finals, Jake? As if a key player recommitting to the club wouldn't be just the fillip the players need on the eve of a finals campaign.
Oh wait… you mean you wouldn't want to announce a decision before the finals because it's gonna be a bad decision, don't you?
And as for you, 'McGoin'… it was clear pretty early on that you would have your cake and eat it too…
I can't help wishing you guys were a bit more like Ollie Wines, who would probably be my favourite player if he didn't happen to play for Port Adelaide and is therefore my actual least favourite player and possibly the worst person in the entire world. But last week, he happily reassured Power supporters not to worry about his contract negotiations because he intended to be a Port player for life.
And while that clearly means he must be some kind of masochist, it at least makes him a loyal one.
It is, however, possible that I lack a sense of perspective about these things.
For instance.
I got all riled up recently when I read an article about how a former Crows first-round draft pick called Fergus Watts had gone on to forge a ludicrously successful business career and create a marketing agency worth $20 million, with heavy hitters like Andrew Demetriou sitting on the board.
This was most upsetting to me, given Fergus walked out on the club back in 2005 – just days after kicking 10 goals for Woodville West Torrens in an SANFL semi-final – to play at St Kilda, where his old man was CEO (and where he only managed one game before being eventually delisted after a bad run with injury and form).
This was, of course, back in the days when the Crows were playing a fun game of seeing how many first-round draft picks we could waste, before we finally gave up and forfeited them altogether for a couple of years.
But naturally Fergus's fabulous post-footy fate didn't at all correspond with the future I had imagined for him, whereby he spent his days wandering aimlessly through the streets of Melbourne weeping regretfully about the time he spurned the opportunity to play centre half forward for Adelaide.
At the time he left he noted living in Melbourne "would serve me best in both my private and football life". Which was odd, given he was leaving a club with a desperate need for a key forward, and going to St Kilda, where Riewoldt and Koschitzke were just hitting their straps.
Still, we did manage to get a first round draft pick for him (although in typical Adelaide fashion we burned it on Darren Pfeiffer, who was later delisted without playing a single game).
Now, you guys might think it odd that I'm still annoyed about the departure of a bloke who played five games for my club well over a decade ago. But that's all part of the South Australian Condition.
We're quick to anger, Jake and Mitch. And slow to forget.
But we're not paranoid or anything. It's just that we've had a slightly bad run with player retention in recent years.
For instance. When the Gold Coast Suns entered the competition and were allowed to go on a raid of players from the list of every club in the competition, guess which club they went to first?
That's right. They made our one-time club champion Nathan Bock an offer he couldn't refuse.
Never you mind though. The loss of our 27-year-old key defender was more than offset by our canny recruiting of a young champion fullback named Phil Davis.
Of course, the following year GWS entered the competition with free reign and a blank chequebook to build their list from scratch, and guess which player they opted to sign first?
Correct again.
Still, we counted ourselves lucky the Suns at least hadn't managed to poach our linchpin forward Kurt Tippett. Mind you, it didn't turn out to be very lucky in hindsight, when good ol' Tippo pissed off to the Swans instead, leaving a trail of carnage in his wake.
But that's what you get for signing up characters like that with no sense of loyalty. Not like the much more impressive Paddy Dangerfield, who distinguished himself during the Tippett saga by obligingly inking a new three-year-deal mid-season and (rather ironically in hindsight) insisting "we can now focus on the team rather than individuals".
"The speculation, the hype that [waiting until the end of the season] generates has become a negative on the group, [so] to get it out of the way and allow the club to focus on winning games of footy – rather than fielding questions about players' contracts – is about thinking for the club," he said at the time.
You may recall that when that contract ended, he pissed off back to Moggs Creek and was never heard of again (apart from winning a Brownlow medal and repeatedly hauling his otherwise fairly average side across the line through his own sheer will and talent).
He did it again on the weekend, in case you missed it, kicking 5.6 on one leg in a game the Cats won by three points. Five goals and six behinds. He was never much of a kick. Probably lucky we let him go.
And in between all this, another emerging forward named Jack Gunston bizarrely decided he'd rather go and win several premierships with Hawthorn than keep his Mark Bickley Award at Adelaide, and similarly went off on his merry way.
So, you see guys, we're not paranoid. Just gun-shy.
But here's the thing. Just imagine being a one-club player, maybe even reaching the hallowed 300-game milestone wearing the same colours in which you played your first.
Then you'd be revered at West Lakes forever, and get the kind of dignified send-off we reserve for only our longest-serving veterans, like Scott Thompson.
Who we…er…dropped to the twos on the weekend after just one senior game.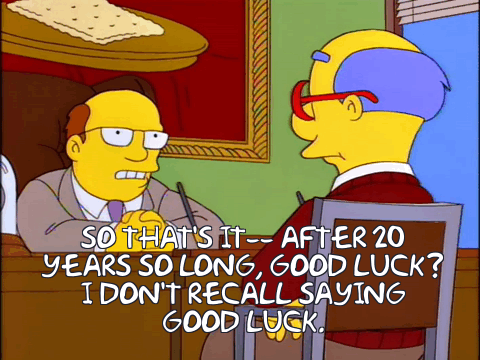 It's looking probable Thommo went on a year too long, and should have done last year what Luke Hodge did last week, using the buildup to his 300th game to announce his imminent retirement.
Which naturally prompted quite a bit of reminiscing, eulogising and general hagiography about the Hawthorn skipper's status in the game.
My own memories of him are, of course, not so fond.
I recall in particular that he kicked the first goal of the game in the 2015 semi-final and the last of the game in Round 12, 2008. Both were decisive. In 2015, it set the tone for the Hawthorn avalanche that followed. Seven years earlier, Hodge's stop, shimmy and goal iced the match, giving the Hawks their first win over Adelaide at home for 14 years.
Unfortunately, they've done it quite a lot since.
I was particularly aggrieved at the time because the Hawks won despite bloody Bock holding their emerging star Buddy Franklin to a solitary goal – no mean feat in a season in which he kicked 113 of them.
So we were not only denied a Crows win, we were also denied the scant consolation of seeing the competition's star forward doing freakish things, albeit at our expense. Which didn't seem fair at all.
But the exit I'd always had in mind for Thommo was more along the lines of another fading Hawthorn star – Shane Crawford, who in 2008 managed to cap off a stellar career screaming sweet nothings from the premiership dais on Grand Final day.
It may yet be thus, but it seems such a finale for Thompson would now require both an injury to a key midfielder and for the club to overcome the innate aversion to playing in Grand Finals that it's displayed throughout his tenure.
Saturday's win over the midfield-challenged Demons in the Top End was another step in the right direction. But of course, we're so well accustomed to things turning sour from here, it will almost be a relief when it happens.
Yes, we're pretty neurotic for supporters of a club sitting clear (albeit by only half a game) at the top of the ladder with six games to go.
But that's part of the South Australian Condition, I'm afraid.
We're like the Woody Allen of football supporters.
And as such we're not the type to beg you to stay. We'd prefer to remain ironically detached and just keep a chip on our shoulder for the rest of our life instead.
Sure, I get that you might want to join a club that's a bit less of a corporate shell (I'm an Adelaide supporter, so I'm allowed to say that, you guys. It's like laughing defensively about the Mall's Balls, the empty Le Cornu site or the late-lamented one-way expressway – we're allowed to do it, but no-one else can. Indeed, supporting the Adelaide Football Club is intrinsically South Australian: you defend it incessantly while bemoaning the way it's governed.)
You might, for instance, prefer to play for a club that would rather win a game than make money on it, as we opted to do instead in Round 23 last year.
So here's the deal, Leaver and McGoin'.
I will make an exception to my usual lifelong rancour about your likely imminent departures – on one condition. Just win a damn flag before you go.
Get InDaily in your inbox. Daily. The best local news every workday at lunch time.
Thanks for signing up to the InDaily newsletter.
Just one flag. Doesn't seem so hard, does it?
Trust me. It is. It really is.
Because you're not just up against the usual constraints of form and fate.
You're up against the whole South Australian Condition, which almost wills its team toward spectacular failure.
Mind you, you could also just sign a new contract with Adelaide, in which case you'll probably be given the Keys to the City. Or you could just buy Cher's off eBay, whatever's easier.
Think it over, guys.
If you can't do it for the kids, do it for the overweight middle-aged bloke in the eastern stand.
Best as ever (for now)
Fumbles
Touch of the Fumbles is InDaily's weekly AFL column, published each Monday during the AFL season. Yes, it's shamelessly biased. Even up the score in the comments section below.
Save
Save
Local News Matters
Media diversity is under threat in Australia – nowhere more so than in South Australia. The state needs more than one voice to guide it forward and you can help with a donation of any size to InDaily. Your contribution goes directly to helping our journalists uncover the facts. Please click below to help InDaily continue to uncover the facts.
Donate today