Film review: Color Out of Space
Nicolas Cage returns to his comfort zone – Batshit Crazy – in a blood-and-goo-soaked Lovecraft adaptation that hails the unlikely Second Coming of forgotten director Richard Stanley.
You can probably divide Nicolas Cage's chequered career into three, sometimes overlapping, ouvres.
The arthouse darling that worked with the likes of Coppola, the Coens and David Lynch and won Best Actor at the Oscars; the mainstream star that helmed action blockbusters like The Rock, Con Air and Face/Off but lapsed into phoned-in roles in second-rate tat.
And then, of course, there's Batshit Crazy Cage.
That, on recent form, will be the shape of the industrious actor's latter-day renaissance, following the blood-drenched acid trip of 2018's Mandy with a similarly eccentric turn in the similarly tripped-out Color Out Of Space (yes, I hate that missing 'u' too).
This outing may not be as batshit-crazy as Mandy, but when you've got a film that features Tommy Chong playing a reefer-toting hermit descending into the madness of the possessed – and he's one of the more conventional characters – you know you're onto something happily wacky.
Based on an HP Lovecraft short story – and featuring the key elements of many a Lovecraftian tale (cosmic horror, tentacled shapeshifters, rural New England setting) – Color Out of Space cannily mashes up alien invasion with gothic horror and smatterings of gore, paying due homage to the likes of Carpenter's The Thing and the "Jordy Verrill" chapter of Creepshow (trivia buffs: as played by Stephen King, no less).
And unlike either of those, it is also a redemption tale.
Not so much for its protagonists – hardly at all, really. Nor even, given Mandy's prior cult status, for Cage.
But it's a Lazarus-with-a-triple-bypass Second Coming for its director, Richard Stanley, who first made waves with the low-rent cult flick Hardware (fondly remembered by many) and followed it up with the spiritual horror of Dust Devil, beloved by some (not by me; I found it tedious).
By 1996 he appeared on the cusp of the mainstream when he attempted to reboot The Island of Dr Moreau with a big budget and big-name cast, but it did not end well.
How not well? Well, in 2014 fellow filmmaker David Gregory managed to make an entire feature-length documentary about how badly things went. So, pretty badly.
So badly, in fact, that Color Out of Space is the first feature film he's directed since.
And happily, it's also his best.
It's beautifully shot from the vertiginous forest of its opening scenes to the sprawling vista of its closing canvas, patiently paced and features a family kooky enough not to overreact to Cage's growing idiosyncrasies during his lapse into Close Encounters-style weirdness.
Get InReview in your inbox – free each Wednesday. Local arts and culture – covered.
Thanks for signing up to the InReview newsletter.
After all, he'd already dragged them to the middle of nowhere to, wait for it… milk alpacas.
By the by, his line casually reminding them to do just that – regardless of the smoking UFO-sized crater in their front yard – is worthy of becoming a celebrated gif before too long.
In fact, here's one I prepared earlier: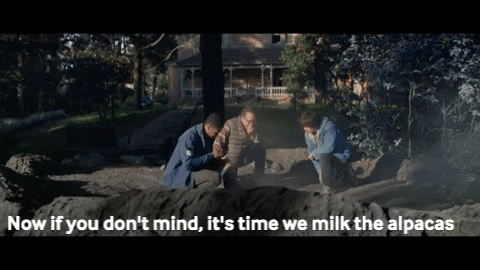 The movie begins with that old chestnut: family unsettled by move to country house as Mum convalesces and Dad follows his dream (granted, said dream is usually to write the Great American novel or somesuch, rather than milking alpacas).
And then one night the titular Colo(u)r arrives bearing an asteroid that leaves a noisome hole in the earth, and before long the residents are discovering blood-filled eggs and inadvertently severing body parts (as you do!) at which point this gently-moving chiller suddenly recalled the immortal words of DiCaprio's Calvin Candie in Django Unchained: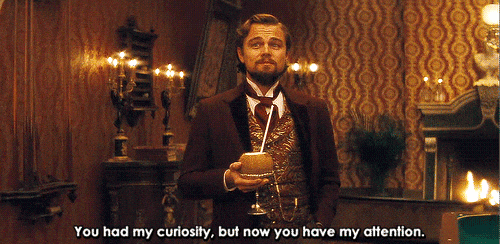 It's all grand fun: blood-and-goo-soaked and over-the-top but with tremendous atmosphere and leavened by another star turn from Batshit Crazy Cage.
You probably won't feel much like moving to the countryside by the end, but if you must, then at least remember the adage: Be alert, not a llama.
Color Out of Space is available to stream On Demand via Telstra, Google Play, iTunes, Fetch TV, Foxtel & Umbrella Entertainment, as well as DVD & Blu-Ray, from this week.
InReview is a ground-breaking publication providing local and professional coverage of the arts in South Australia. Your tax-deductible donation will go directly to support this independent, not-for-profit, arts journalism and critique.
Donate Here