My Town – Ross Vogt
Having recently celebrated his 97th birthday, lifelong Kapunda resident and local historian Ross Vogt doesn't plan on changing gear anytime soon.
Gleaming in the Mid-North sunlight as it gently rumbles down Kapunda's main street, Ross Vogt's 1937 Plymouth sedan is quite a sight. Like something out of an American gangster film with its round headlights, whitewall tyres and steel grille, the grand old Plymouth is a visual clue to locals that the 97-year-old is out and about.
Ross owns four cars, which he uses to get to his many social outings and community meetings. When he drives the Plymouth, people often approach Ross in the street to reminisce about a grandparent who "had one of those".
Ross is Kapunda's resident historian, but is a piece of local history himself having lived in the district his entire life. He has contributed immensely to the town, having been a driver of community projects including the museum, a playground, swimming pool and a local conservation reserve. He was named Citizen of the Year in 1992.
Located just outside the Barossa and home to about 3000 people, Kapunda was forged by the copper mining boom of the 1800s and is today adorned with majestic public buildings, including 19th century pubs and other heritage structures.
"Kapunda is full of good people — it's just home," says Ross. "It doesn't have the hassle of the Barossa Valley, and certainly not the city."
Impressively independent, Ross takes care of himself, his historic house, garden, and his four cars. He opens his freezer to proudly display the stews he has cooked up in a large batch, ready to be de-frosted for his meals. He has one drink a day; usually a wine or a stout. "My doctor says it's good for me. That's all he told me and I don't ask any questions."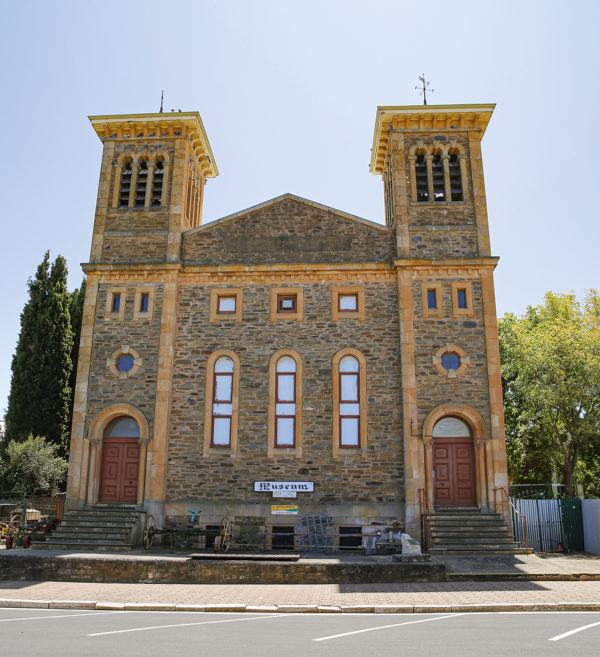 Ross has an active social life, including a regular dinner group at the Sir John Franklin Hotel, cards at Tanunda and Mount Pleasant, and church on Sunday. He also attends regular car club meetings in Adelaide.
Ross doesn't let his health get him down. He's a believer in home remedies, particularly lemon juice, apple cider vinegar and honey, which haven't done any harm to his longevity.
But while his spritely nature is impressive, it's the community endeavours that have kept him going since losing his wife Grace to cancer in 2005, a year after she was named as Citizen of the Year. Grace and Ross had two sons and shared a love of motorcycle touring, through which they saw much of Australia together.
"Grace was my special friend for 57 years," Ross says. In one of their last conversations, Grace said to Ross: "I've had a wonderful life. Some of the best was on the motorcycle pillion."
She also told Ross to get on with living his life. "That I have endeavoured to do," he says. "But there was a big hole to be filled — not only for me and my sons, but for the whole community."
With a need to keep himself busy, Ross saw that the museum needed attention. Having been a professional woodworker for most of his life, Ross poured his time and elbow-grease into refurbishing the run-down building to create the town's very own museum.
A community project of which he is most proud is the Pines Conservation Reserve. As an elected councillor in 1971, Ross established an organisation to manage the reserve, which now has tables and seats, walking trails, fencing and a car park. "Of all the organisations to which I have been connected, The Pines needed me most," he says.
Throughout his life, Ross has gained great satisfaction from making things. It was fortuitous that he dropped out of high school early, as he found his skill in labour and mechanical tinkering. He also enjoyed working for his father Herb on the family farm during his teenage years, producing wheat, barley, wool, dairy and meat.
During that time, Ross was almost conscripted for war. He was of the appropriate age and health to be enlisted, but was deemed to be too important working a farm of 1120 acres. 
Get InDaily in your inbox. Daily. The best local news every workday at lunch time.
Thanks for signing up to the InDaily newsletter.
"I received a certificate that said I could not enlist, even if I offered," he says.
When Herb sold the farm, Ross and Grace quickly had to find accommodation, and purchased an old, run-down miners' home for 450 pounds. They went about renovating the stone building, and what was supposed to be a temporary lodging eventually became their permanent home.
Today, the stone-fronted house is a museum in itself, with collections of vintage audio equipment, telephones and other odds and ends. More than 5000 people have signed the visitor's book, coming in twos, busloads and car clubs.
A wealth of knowledge on so many subjects, Ross has been invited to give talks at schools and community groups, and
has appeared twice on television promoting Kapunda's history and tourism. 
Ross had much in common with his father Herb (Bernard Herbert Vogt) who lived to 96 and was also heavily involved in the community. Ross' mother Louise lived to 98. "Dad and I were so alike," Ross says.
"Many years ago, my dad said to me 'we live too long'. I didn't understand at the time, as he was fairly able then. Now I do, as so many of my closest friends are in aged care homes or have passed away. There are many holes in my life, with Grace's passing in 2005, and the passing of my son Wayne in January, 2017."
However, when asked what motivates him each day, Ross says it is through giving to others that he discovered meaning, purpose and joy in life.
"In the bible, it says it is more blessed to give than to receive — and that's it. I've given, not because I want praise, but because it gives me great satisfaction. That's a big part of life." 
This story first appeared in the April 2020 issue of SALIFE magazine.
Local News Matters
Media diversity is under threat in Australia – nowhere more so than in South Australia. The state needs more than one voice to guide it forward and you can help with a donation of any size to InDaily. Your contribution goes directly to helping our journalists uncover the facts. Please click below to help InDaily continue to uncover the facts.
Donate today